Women for Women International
Salisbury Rotary's main International project for 2017 and 2018 is 'Women for Women International' (WWI).
In June, Katie Allen who is the Policy & Programme Grants Manager for WWI came along to a club evening to tell the members what WWI is all about and how Salisbury Rotary Club will be helping.
What Do WWI Want to Achieve?
A world in which all women determine the course of their lives and reach their full potential. And, to back up this ideal, Katie gave some revealing facts:
70% of the world's 1.3 billion people in extreme poverty are women
Women perform 66% of the world's work, produce 50% of food, and yet only earn 10% of income and only 1% of poverty
70% of the casualties of war are women and children
How Are they Setting Out to Achieve this?
In countries affected by conflict and war, Women for Women International supports the most marginalised women to earn and save money, improve health and well-being, influence decisions in their home and community, and connect to networks for support. By utilising skills, knowledge, and resources, they are then able to create sustainable change for themselves, their families,  and community.
Is it Working?
Since 1993, Women for Women International has helped more than 447,000 marginalised women, offering support, tools, and access to life-changing skills to move from crisis and poverty to stability and economic self-sufficiency – bringing women together in a safe space to learn life, business, and vocational skills.
How is Salisbury Rotary Club Helping WWI?
Salisbury Rotary Club is supporting a 12 month training course for 25 women aged between 20 and 37, near Bakavu, South Kivu in the Democratic Republic of Congo (the 13th least developed country in the world). They have varied educational levels but the majority can neither read nor write.
Each of the women will be assessed to identify a range of suitable skills for them to learn and they can then choose which ones to take on. Each of the women also receive a stipend equivalent to $10 per month, which is crucial as they are normally excluded from earning money and on making decisions on how to spend it.
How the Programme Works
As you can see from the diagram below the programme is split into 4 main groups – Sustaining an income covers women's rights, income and asset management, savings group formation and numeracy skills: Health and wellness covering awareness, protection and prevention together with referrals and business training: Decision making together with their rights and laws, family and community decision making, vocational training: Social networks and safety nets incorporating solidarity, group formation and graduation.
The aim of the programme is to provide the women with the knowledge and resources which in turn will bring about lasting social and economical change within their community.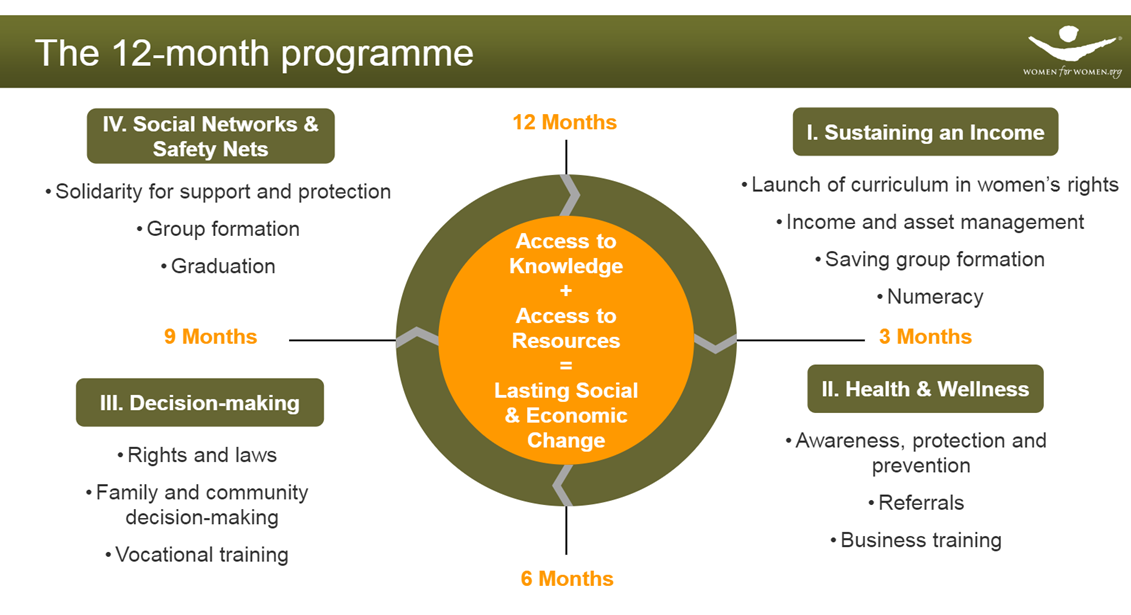 You can learn more about Women for Women International at their website: www.womenforwomen.org.uk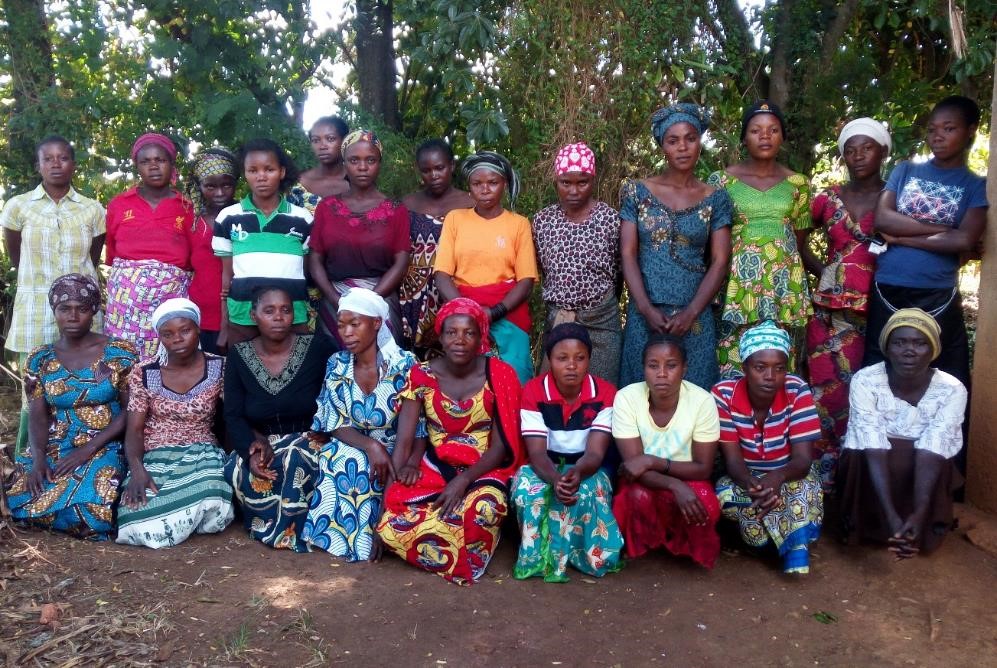 The Participants